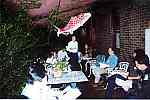 The first Annual General Meeting was eventually held on 11th March, 2000. We gathered at a home Japanese restaurant where we were the only patrons there. After the official meeting, (please see the official report) we had a nice Japanese dinner. Twenty odd members and half of them brought their families along. We had over 20 members and altogether that night, we had over 50 people for dinner.
We chat about the good old days and the good "present" days. Anthony Liu gave us an informal report on how he met the past 12 presidents of Hong Kong SLOBA and how they raised some money for the Trust for Fr. Deane. The news was certainly encouraging that a lot of Old Boys are showing real concern for Fr. Deane and his health.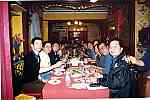 Then Peter Cheung, our website master, suggested that since our SLOBA website still had a lot of space, each member can use up to a page for his own announcement of service to the fellow Old Boys. The thought was indeed a brilliant one. I hope our members will make full use of this.
Towards the end, we all joined in for a bit of karaoke. But before the karaoke, we warmed up with the Alma Mater school song. We almost rocked the house. And during the karaoke, vow, I discovered that there were a lot of Alan Tams, Jacky Cheungs, Priscilla Chans and Sally Yehs in our group.
And many thanks to Tony Wong who donated the beer, a lot of the left over are now in my fridge. Also thanks to Alex Wong and Felix Chiu for their wine and Bernard Yim for his soft drinks. We needed those drinks after all the singing.